Family-Owned Custer Electric, Inc. has specialized in sports lighting and outdoor lighting projects since 1970.
Contact us for:
Design Build Project Capabilities
Specification Development
"Turn Key" Lighting Systems
Installations
Sports Lighting
Roadway Lighting
Parking Lot Lighting
Concrete Foundation Installation for Lighting Poles
Deep Foundation Drilling (from 48 inches in diameter to 25 feet deep)
Crane Service to 30 Tons
Bucket Truck Service to 150 Feet
Communication Tower Installation under 200 feet
Light Duty Excavating and Trenching Services
Light Duty Commercial Wiring
Site Electrical Projects
Painting of Steel Poles
Outdoor Warning Sirens
We perform all of our work and do not outsource. We supply all of the quality materials for your project, design using current building codes and complete the installation. We stock all of the parts required for your new lighting system. This includes any fixture, ballast or lamp that we install so you won't have to wait for us to first order parts to maintain and service your system during or after the warranty period.
We have an excellent relationship with our suppliers and we can typically have your lighting system installed within six weeks after approval.
We use the latest in energy efficient products and use non-proprietary components. You'll save money by having Custer Electric install an energy efficient lighting system. For example, a typical high school football field lit to 50 foot candles will cost less than $9 per hour to operate. At 250 hours of operation per year the system will cost only $2250 to operate.
When we design a sports lighting project we cover the entire installation including lamps at no cost for 5 years. We also offer maintenance plans and extended warranty programs to fit every customer's need.
We are your complete source for your next outdoor lighting project. We can design, install, service and finance your project. Leasing options are available with approved credit for government agencies, schools,  municipalities, and parks and recreation departments.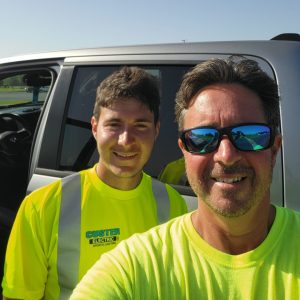 Family Operated
Craig and Chase Custer: Summer Work